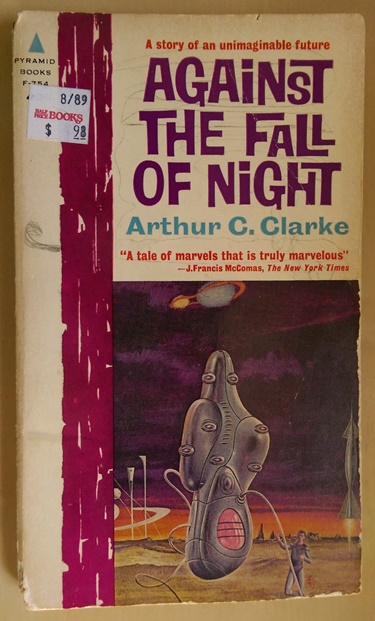 This novel is remarkably bloodless.

I mean, I don't mean to be mean to Arthur C. Clarke or his writing (not that any meanness of mine would affect him in any way, and it would/will only make me seem spiteful and jealous) (and, to be truth, I am jealous of all of these pulp writers I've got a giant box of, because I feel like, in one way, they lived in a golden age of speculative fiction writing, if only because so many of them were published) (and I know that's undoubtedly a false belief, seeing the past through the mask of the present, even knowing that most of these writers were paid pittances for their work), but I suppose I do mean to be mean.
The book under discussion: AGAINST THE FALL OF NIGHT.
The plot at hand: In the far future, humanity has retreated to a single city on the whole of the Earth, a city where people live hundreds of thousands of years, if not millions, where stagnation has become a way of life. You don't live, you exist. Alvin, a young boy of some fifty thousand years (if I remember correctly), strains against the confines of this life and finds the true reason why humanity has sequestered itself like this and given up on exploring the space beyond a single world. He finds the answers, an all-powerful child-like space nebula thing, and vows to rebuild both humanity and the Earth.
As you might expect: there's a lot I'm leaving out, but none of that matters. None of it. Absolutely zilch.
I mean (and I mean it this time) that the story itself almost doesn't matter, for how affecting it is. If you take the details of the world Clarke creates, there is so much that is interesting, intriguing, deserving of attention and exploration, and yet almost all of the book is shorthand for the book that could've been written. This is a novel that's in love with its own ideas, believing that those ideas will carry the book into your heart even though the characters are just third-hand recollections from an old classmate told about someone you both once knew, this at a reunion, this twenty years after the fact.
Which is to say that this concept and all of its wrinkles, all of its details, it would make a great book in someone's hands. This is not that book.
AGAINST THE FALL OF NIGHT almost reads like a Young Adult novel by someone who hates Young Adult novels but wants to get in on the craze. This having been originally written in 1948, I can safely say that's not the case. The novel reads as though much of what's interesting about the story has been stripped from it in order to not distract from THE STORY. The city Alvin lives in, it's so large, and the population so small, they move every so often to a new home in order that the entire city be used and they don't get bored. What does this city look like? How about the people who live in it? Who knows? We certainly never find out.
If it sounds like I'm angry, it's because I am. There is a wonderful seed of a novel here, but the seed itself is boring. I want it to be a flowering shrub. A carnivorous plant. But it's just a seed waiting to be grown.
I've read some crappy books for this project (Unpulped, as it's called on my blog) but even crappy books can be fascinating. Their ideas can be off the wall, their historical context revelatory, their strange use of language mind-broadening. But AGAINST THE FALL OF NIGHT is simply boring, and boring I can't stand.