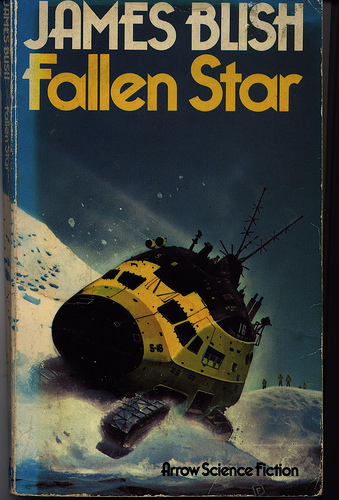 I've finally read a book by James Blish that I feel is worth keeping (Actually, I might still have Cities in Flight floating around somewhere), and brings my respect for him as a writer up another few notches.  An introduction I read to a previous collection of his said that his critics called him cold, and that's not far off at all.  Even when a character is warm, he's not someone you want to snuggle up to.  And I don't think that's a fault of the characters; Blish is careful and meticulous in making all (okay, most; and mostly not including women) his characters fully realized, but this means that there's no veil of rosy memory/love/compassion that prevents them from seeming like complete assholes.
And, really, that's too far.  Because they aren't assholes, there's just a distance between the world of the characters and the world of the reader.  In extreme bouts of self-immolation I fear I may have the same problem with my stories (though my distance is due to being over-the-shoulder of the main character while not inside them).
Be all that as it may, Fallen Star seems worthwhile to keep.  And I'm just noticing now that it's a Hugo winner, though I wonder if the qualities that make it stand out for me (from Blish's other work (that I've read so far)) are the same that captured the minds (and hearts?) of the judges.  Still, I can recommend the book.
It's hard to do the same with Crime and Punishment, which I'm attempting to read for the second time.  I'm succeeding so far, but I also have admitted to myself that I may stop at any time.  Difficulty One: Raskolnikov is completely unlikable.  Except when he is (such as in his attempt to save Marmaladov).  His depression, disgust of, and nausea at life goes unexplained, though I think that is supposed to be part of what the novel explores.  Unfortunately, it doesn't make for gripping reading (for me).  It's tempting to say it's akin to watching a train wreck, but it's more like watching a train that's meant and aimed to be wrecked for the hours up until the actual throwing off the rails takes place.  Difficulty Two: It's not as though it's fun reading.  There's a draw to it, but every kernel that I find intriguing feels like it was wrested from bedrock.  Granted, what it provides in the long view is an analysis of how the whole story was put together.
For some reason I've felt engaged in writing since last Friday.  Not that I've written a ton, but I've been doing it, and working on other projects/necessities as well.  By which I mean I'm actually making use of my time for the nonce.  Ponce.  Dunce.  Once and again.
Over and outtake.