I was planning on writing about something else today – namely, something not scary and how it can still be scary.
Instead, I'm going to talk about two things.  The first is that I recently had a few (say "two") pieces of flash fiction published in NANO Fiction 4.1.
As a result of this, I received an e-mail from someone yesterday – a person I don't know, mind you – who just wanted to let me know who hilarious they found one said pieces ("This is an Offer You Can't Refuse", for those in the know).  And, as you might expect, this made my day.  It seems so rare to get a response from something I've published in a literary magazine that I often feel like my work disappears into a black hole.  It's nice to hear those voices from the other side.
The second thing is that – in news akin to hearing echoes from the void – I had a comment on my blog yesterday that was also from someone I don't know (and, amazingly enough, not the same person as above).
What that person wanted to know concerned the picture in this post.  Specifically, she wanted to know what magazines were pictured on my shelf.
I have a confession to make.  That isn't my shelf, and those aren't my literary magazines.  For the most part, I rip pictures from the depths of the internet when I have pictorial need, and that one bested suited the "idea" of literary magazines.  I mean, if I wanted to show you my magazines, I'd have to break out my digital camera, take the pictures, and upload them to my computer, which, now that I'm spelling it out for you all, does indeed make me seem really, really lazy.
So!  Today!  Here are pictures of my literary-magazined shelves!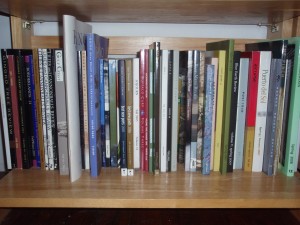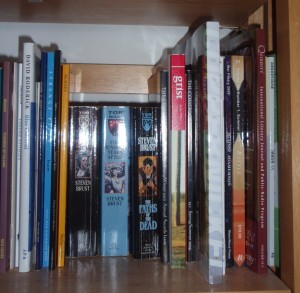 If you click on the pictures, you'll get them in all their full-size, title-readable glory.
Also, if you did research on all the issues for each of the magazines, you'd quickly learn that I have work in all of these magazines. Although I read gads and gads of lit mags, I only end up keeping very few that don't contain my writing.
I'm not sure exactly why this is. I suppose it's that literary magazines straddle the line between the permanence of books and the temporality of weekly glossies. That, and the fact that I'm an inveterate anti-packrat.