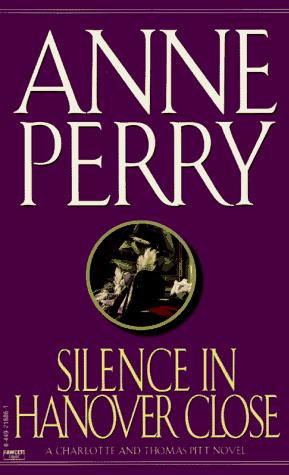 I admit, I've read Anne Perry.
I've read four of her series of Victorian detective novels involving Thomas and Charlotte Pitt.  I would read more, if they magically appeared at my bedside, but I must admit that the only reason I started reading them to begin with involved a serious sickness the fact that I was at my grandmother's in New York without a book of my own to launch into.  So, I trolled through her books and landed on Anne Perry.  Mystery!  Murder!  Romance!
[Eh… wait.  Did you say "romance"? –ed.]
No.
[Good. –ed.]
I said Romance!
[Ah. That's better. –ed.]
I'm interested in mysteries, even though I don't read many of them.  The last one I read was The Manual of Detection and that was more like reading an Angela Carter book than a Sir Arthur Conan Doyle one.  I'm interested in mysteries because I like discovery, whether in my writing or my reading, and mysteries provide that constant sense of something tantalizingly just out of reach.
And Anne Perry's books are clearly marked as detective novels, mysteries, what have you, and not romance.  And urban fantasy isn't labeled as romance, but that's the basis for most of the plots now making their way through bookstores.
But I noticed pretty quickly that the Thomas and Charlotte Pitt novels (of which there are twenty-five) always have some sort of romance plot that is subordinate to the main investigations (twenty-five), but it often inextricably intertwined with them as well.  In the earlier books, this romance directly involves Thomas and Charlotte; if I remember correctly, they aren't married at the beginning.  As the series progresses, the relationships spiral out to their circle of friends while still holding a tight focus on the evolution of love and romance in a marriage.
I really liked these books.  Love?  Perhaps not.  But they were highly entertaining, carried on a good conversation, and were pretty to look at (both the cover and the prose).
And, yes, this was a confession, called forth by my dire refusal of romance yesterday.
I suppose what I'm uninterested in is formula (though the idea that Perry can come up with twenty-five novels in this series without resorting to some vestiges of formula boggles), since formula equates in my mind with boredom, and I hate boredom.  Or I'm sort of bored by it.
And so I hate formula.
You know, unless it works.