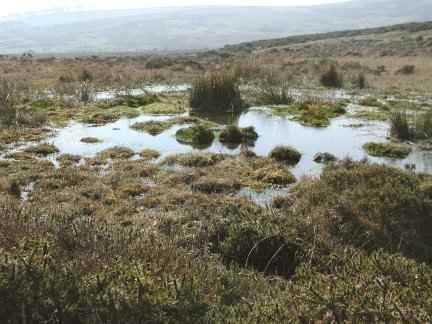 The surface is spongy.
At first I wrote the surface is spondee, which is also true: two hard syllables under your feet with a little bounce, a little give and, you hope, no take at all.
Metrically, most bogs aren't spondee.  One foot finds purchase, the other threatens to break through the surface.  Often, a shoe gets wet, water leaks through the shoelace holes, the sock gets soaked, and the flesh on the foot begins to wrinkle.  Best case.
Other cases, the surface splits open and swallows you up to the waist, to the neck, to your hand just above the surface, waving, and drowning.
But the thing is that you're already in the midst of the bog.  You went walking through the wilderness and daydreaming and enjoying the feel of the wind on your face and then you see the puddle at your feet.
But it's not a puddle.  A puddle you could dip your toe in and then be stopped by mud or rocks or concrete – at least you'd be so stopped if you had stayed in the city where you belonged.  But, no, this puddle that's not a puddle because it is too deep.  Your toeing around found nothing.  You kneel and the ground gives.  You reach your hand into the puddle, but there is no bottom.  There is no end.
Around you, there are puddles everywhere.
The sun is a dying bird.
And there, on the horizon, a silhouette.  It waves you over.  It looks familiar.  But don't go.
Nothing good will come of it.