A few weeks ago I hit Murder By The Book for the second time.
In particular, I wanted two things: A copy of The Curse of the Wendigo and to order a copy of Shadowheart.  I was pretty positive MBTB wouldn't have Shadowheart as that's a pretty straightforward fantasy epic and though they have a fantasy and science fiction section, it's rather small (though interesting: I bought Boneshaker while there).  I was sure they'd have Yancey's book since they have a decent young adult section.
As usual, I roved the YA shelves for other books to catch fire in my brain.  The only one to do so, really, was
Shortcut #48: James Dashner's The Maze Runner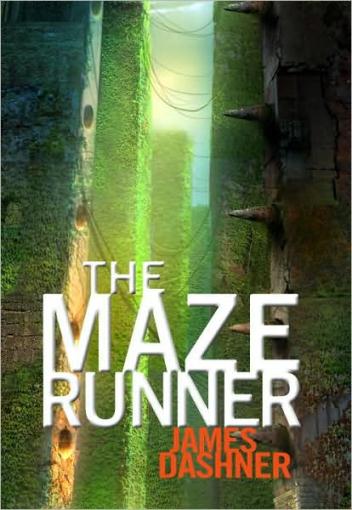 For the second real review for Review Week: The Week in Review Consisting of Reviews and Review-Related Materials, I will be talking about a book that I like reservedly.  A book that I have reservations about.  Specifically, reservations coming from a place eloquently described by Phoebe North:
As a long-time lover of books and reviews both, I understand that even the most cutting negative review comes from a place of affection, a place of love. Maybe not for the author, but for the book, and what it could have been, even if it was not.
What attracted me to The Maze Runner out of all the other books there?
First it was the cover.  It's beautiful and evocative and mysterious.  Click here to see the original art by Philip Straub.  I'm a sucker for good covers.
Second, the jacket copy hooked me.  Here's a novel that revolves around a mystery in an alien environment but peopled with those from our unmysterious world.  We have a boy, Thomas, who has no memory but, not only that, no one in the world he's thrust into has concrete memories of the world outside of where they are now.  I read the first few sentences and said, yes, I will buy this.
Let me say this first: James Dashner has an awesome imagination.
Here's a plot summary: Thomas finds himself in the Glade, a protected square in the middle of a maze that's inhabited by sixty or so boys all bent on discovering a way out of the maze.  They have a garden and livestock for food.  They have a dormitory to sleep in.  They have weapons.  They have a jail.  They even have a graveyard.  For the last two years, kids have "run" the maze to map it and try to discover a way out – but every night the maze changes.  After Thomas' arrival, things begin to go sour, and life in the Glade breaks down.  Also, there are monsters and mysterious robots and an even more mysterious girl.
Dashner describes this world wonderfully, populating it with believable characters and making the environment visceral.  The monsters (the disturbingly-monikered Grievers) are nightmares made flesh (in this case: words) and the pressure on the kids trapped in the Glade is palpable, as is their frustration both at the situation they find themselves in and at their lack of knowledge about that situation (who put them there? what do they want? what is outside the maze?).
There are many things to like about The Maze Runner, but overall I was frustrated.
However much I like the imagination Dashner brings to the book, it is the writing that throws me.
Partly, this has to with his style: The novel is a constant series of repetitions.  Something will be said, and then Thomas will think about what was said a few pages later, and a few pages after that, he'll mention what was said to someone else, and then we'll get the thoughts about how that person reacted to what was said.  That's an exaggeration, but there is a strong sense that Thomas is over-narrating.  As a reader, I felt that I wasn't trusted to keep the important details in mind.
Partly, this has to do with his language: After reading Yancey and Anderson, I know that there are young adult novels that knock me over with verbal virtuosity.  They don't need to, exactly, as I find Westerfeld's writing simple, but he makes up for it with clarity, speed, and evocativeness.  In The Maze Runner you have "Never before had the sheer size of the Maze truly hit him." and "Then it hit him that maybe he was crazy." on facing pages.
Partly, it's that Thomas isn't all that likable.  He's a liar and he's not all that empathetic.
All that said, my imagination was still caught by the world Dashner created.  I'm not planning on buying The Scorch Trials because I was annoyed by The Maze Runner almost as often as I enjoyed it, but if I found a copy in a friend's library, I'd read it.  There is something real at work in Dashner's book, an imagination I feel a kinship to, a kind of love based, as Phoebe said, on what the book could have been.