I lived in Washington, D.C. for five and a half years.  I love the city.  It imprinted on me (along with Frankfurt, Germany) my idea of what a city should be.
But the last time I was here was in 2000.
Here is a picture of the city I love that I haven't seen upon my return.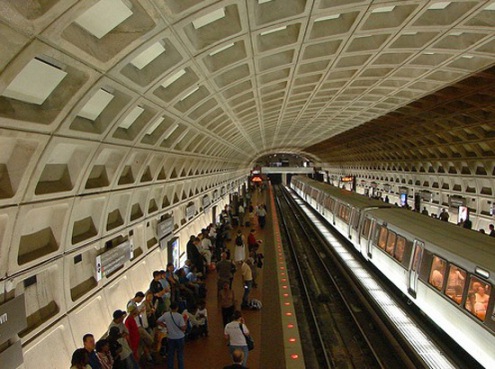 I'm here in D.C. for the AWP conference which, for those not in the know, is essentially a huge party for all the writers in North America that have some ties to academia.  The Associated Writing Programs conference is technically the name, but we all call it Awp (rhyme, please, with Whitman's barbaric YAWP).
I was really excited to come back to D.C. for a few reasons.
One, is, of course, that I haven't been here for so long.  I wanted to reintegrate my memories of the city with my actual experience of the city.  I wanted to visit all those places that were important to me when I was just a young'un.  Tryst, where I had my first real job (at least the first real one in the service industry).  That coffee shop on P Street that stayed open till four in the morning.  The hostel I worked at on 11th and K, and the diner I loved that was just around the corner from it (though I don't remember which corner).
Two, is that the current novel-in-progress that I'd be working on if I wasn't in the process of revising GOD'S TEETH involves two worlds: a fantasy world completely imagination born, and Washington, D.C. and its immediate environs.  So far in my writing I've been able to skate off of inference and implication, but my memory is notoriously unreliable (if I recall correctly) and I wanted to walk through the city to fix details in my mind that, ideally, would fix that part of the novel into a realistic mold.  Believable.  Loveable.
But instead of visiting all the places I've loved before, I have been hanging out in an area that I really stayed away from for the most part: Adam's Morgan and its northerly cousins.  Yes, it's true that I worked at Tryst and that Tryst is in Adam's Morgan (and so I've visited one place out of the half-dozen on my list), I didn't hang out in that part of town.  I just worked there.
Michelle and I have walked down to Dupont Circle and made the rounds, but that was late at night, and it was cold, and enough had changed that I feel more a stranger to the city than I feel a stranger might.  It's like entering your childhood home after it's been taken over by another family.  So much is the same, but that only makes the entire experience more foreign.
I've bought a laminated map of the city, mostly for the novel-in-progress.  From a bird's eye view, it's still the city I love(d).
And I do still love D.C.  But now it's like meeting a lover from my youth.  There's shared history, yes, but that's outweighed ever so much by all that I don't, and may never, know.