So I'm going to be part of this Kickstarter run by my good friend and fellow writer Jason Myers.  It's called Big Trouble in Little Canton: Supernatural Hijinks in Ohio and will be a multi-year serial novel-type-thing involving horror and the supernatural in, well, Ohio.  Which doesn't come up often in Horror, as far as I can recall.  Click on the name above if you want to support the project and/or just see what it's about.
For my part in the project I will be penning four postcards, each postcard containing a flash fiction piece detailing a location in Ohio (said location being the other side of the postcard).  For fun, and to warm up to the idea of horrifying Ohio, I've been writing little micro-fictions about Ohio and will be doing so until the Kickstarter ends.  This is a record of that experiment.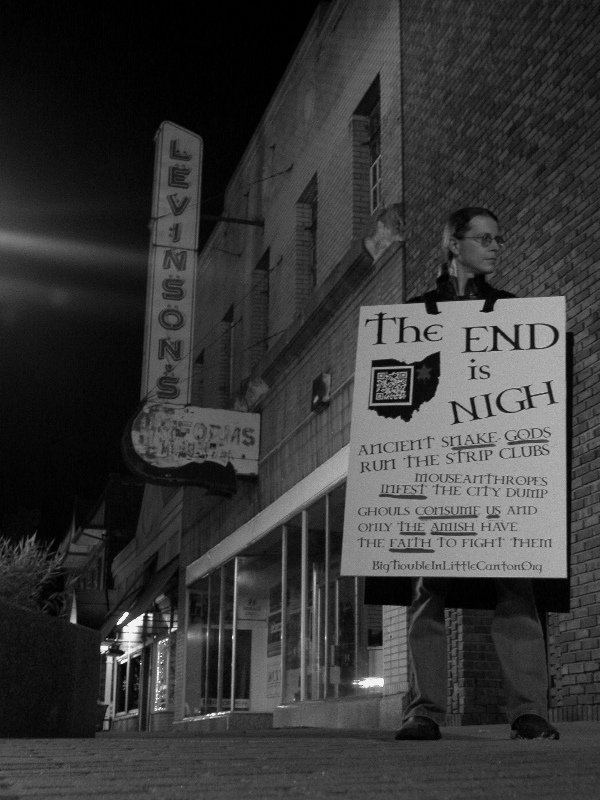 One thing you don't know about Cleveland, Ohio, is that Cleveland was destroyed. It was destroyed not once, but many times. First, it was the Great Flash Paper Fire of 1864. Then it was the Little Earthquake of 1876 that leveled the entire Red Light District, causing mass migrations from the city. Following that were the First and Second Great Floods of 1875 and 1877 (the origin of Lake Erie, the water of which covers the ruined city), the Polka-Dot Sinkhole Epidemic of 1901, the Rabid Rabbit Rampage (which destroyed Ohio's nascent fried rabbit industry and also sparked the Great Depression) of 1929, and the giant unexplained beast that ate its way through the city in 1934.

You might be asking yourself this question: If Cleveland has been destroyed so many time in so many ways, why haven't I heard about it?

The answer is Tourism, boys and girls. Tourism.