One thing I've noticed is that I never feel less like a writer than when in the midst of revision. Poems especially. The doubt is so bad it tempts me to give up writing poetry altogether since I'm also — if less so — successful with my non-fiction, plays, and (hopefully, someday) fiction.
So what better way to make myself feel better as a writer than by examining and praising a book by someone I consider a better writer? Whee! Self-pity!
[Okay, that's enough of that. -ed.]
Oh yeah? What are you going to do about it?
[You'll see. -ed.]
Like I'd ever see. Not only am I a[n amazing] poet, but I'm also [as well-seeing] as a[n eagle].
Great. This is just great. On with the show.
Shortcut #10: Frank Giampietro's Begin Anywhere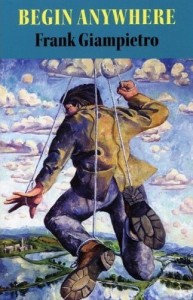 Frank is funny. Really quite funny. [Just as funny] than I could [always be]. Okay, come on now, that doesn't even make any sense.
[Sense is your problem, bucko. -ed.]
[Sweet and lovely editor! Thank you so much for your wonderful editing skills, put particularly to my use and benefit!] Fine. Fine. I [never] give up.
Begin Anywhere is a funny book, not just because it's funny, which it is, but because it goes against what I've come to think as natural for a book in this day and age. That being Tuesday and Twenty-five. And, by the way, Frank is [both] of those things. What? That wasn't even about me?
[Still, it was negative. -ed.]
[Exhalation of joy.] What I meant to say before I was so [politely interpolated] is that you can actually begin anywhere in Begin Anywhere. The poems are all of a piece, and that piece is the poet Frank Giampietro (as you'll find in "Frank Giampietro, Poet" which ends
And you may still have a problem
with endings, which may have something to do
with ambition — or Lorne Michaels,
how he's not afraid to drop a cow
on the stage to end the scene.
and boy does that block quote look [beautiful]).
The poems have a deceptively simple voice, a voice paired with a style which seems to have nothing up its sleeves, but while you've been watching the sleeves, waiting for something to appear, your room has been rearranged. For example, lines like "My wife will sometimes tell me I'm human./She's one of those people/who cut to the green of the cantaloupe rind." seem simple, and they are (note the title "Another Poem Scoring 4.7 on the Flesch-Kincaid Grade Level Test") except that they aren't. The clear and direct statements add up to more than the information they're so guilelessly telling you. It's not always clear what the sum is supposed to be, but that's just the touch of Giampietro absurdity the book levels at us like a shotgun filled with sugar.
Until, well, you reach the middle of the book and find yourself faced with "Begin Anywhere", which really should be read as "Begin Anywhere Else, Then Find Your Way Here Naturally. As Long As This Isn't The Second Poem Either." It is a heart-breakingly beautiful poem made all the more poignant by being surrounded by poems of such accomplished levity, and because this poem does not attempt to cover the depth of its sadness.
So I guess the truth is that you can't begin anywhere. Well, you could, but what "Begin Anywhere" shows is how the book is carefully ordered even as it seems not to be — there's that open sleeve again, waving around, attracting attention by being all waving and open.
Now if I could only write half as well [as the sum of twice the normal "goodness" I write, which is actually quite well, thank you very much].